Phuket Packages ; 3 days and 2 nights in Phang Nga Bay



Phang Nga Bay Nature Tours
Adventurer or nature lover? Discover the wonderful Phang Nga Bay, while canoeing slowly through this spectacular marine ecosystem.
Stay 3 days/2 nights and explore the outstanding and extravagant limestone cliffs of Phang Nga Bay. Follow us to our secret spots: the Hongs, mangrove estuaries and colorful limestone cliffs.
By traditional long Thai boat or by big boat depending on the number of people, enjoy the classic comfort of tents and relax into the clear waters of the Andaman Sea.

The tide varies and every trip can be different but we guarantee the caves and Hongs (made famous by Caveman...), paddling in deep mangrove, many wild animals, including a great variety of seabirds and honeycomb.
You will be amazed in front of this extraordinary universe with rich fauna: White-bellied Sea Eagle, Brahminy Kite , Brown Owls, several species of kingfish, three species of primate, sea otter…
Night Camping on the islands, shower on the beach in the morning: a real adventure!
Program and itinerary
3 Days / 2 nights Full board
Day 1 : Pick up from your hotel and transfer to harbor
Depart Ao Po, Phang Nga Bay paddle and Lunch. In the afternoon caving in Phang Nga Bay
- Dinner and Sunset trip boat Camp Koh Penak (Hong by night)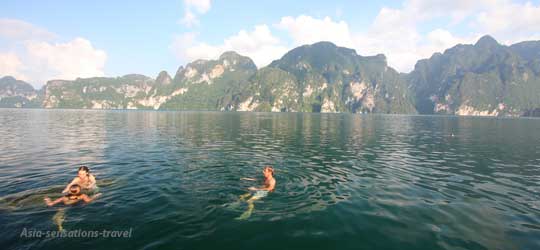 Day 2 :
Excursions Honeymoon Hong and Hong Yai. Afternoon paddle at Koh Bele' and camp. Overnight
Day 3 : Koh Bele' and Talin - Koh Pak Bia and return to Ao Po.
Transfer to hotel.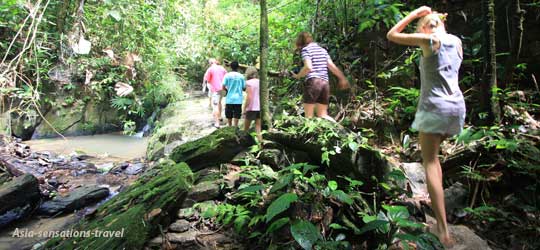 Two different type of accomodation depending of the number of people
Longthai Boat 1 to 4 people (toilets and shower on the island)
Big Boat 5 to 12 people (includes shower and toilets)
Price includes:
Transfer by minibus/ Transfer by boat/ Soft drinks/ Staff (guide, paddler)/ Insurance/ Full board/ Camping equipment.
Price per person

Date

1 pax

2 pax

3pax

4/6pax

7/8 pax

9/10 pax

11+pax

Saterday & wenesday

62,050

29,700

25,100

24,200

24,200

22,000

20,090