Khao Lak Jungle Tours
Departure for an adventure day in Khao Lak Jungle, leave Phuket Island or Khaolak and continue toward Birmania. Upon arrival, you will cross a well-preserved rainforest by bamboo raft. After exploring the jungle along the wild river, you will arrive to Wang Khieng Koo Waterfall and enjoy swimming or relaxing. This rewarding and absolutely unique experience will bring you back in time with its natural habitat covered with exotic and lush vegetation. Lunch at Khao Lak at a local restaurant, on the edge of the Andaman Sea.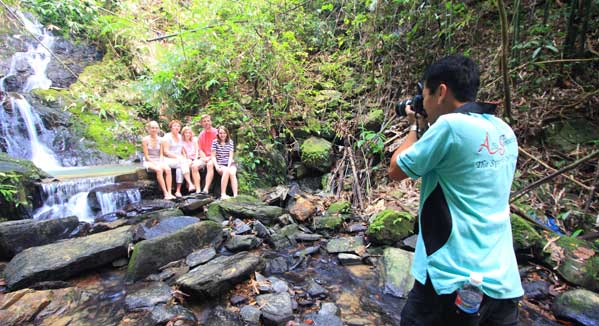 After lunch, enjoy swimming and relaxing, then depart to the elephant sanctuary in the surrounding jungle will allow you to discover the flora and fauna of this splendid ecosystem. Then let yourself be enchanted by a snake show and admire snake charmers dancing with dangerous and fascinating cobras. Back to reality and visit of the Royal Navy Ship to give you an overview of what happened during the Tsunami in December 2004. On the end of the afternoon, we will visit the turtle sanctuary. Free time and transfer back to your hotel in the afternoon.
Tour Description :
Daily : 06h30 – 18h30
Turtle Farm
Bamboo Rafting
Lunch at The Local Restaurant
Walking around The Beach
Elephant take care.
Rubber Tapping
Monkey Show and Snake Show
Visit Tsunami Museum
Khao Lak is the better choice for your dream holidays to one of the world most romantic tourist destination. Khaolak keeps going on sharing a part of nature humanities, a unique insight local customs, traditions and lifestyles still last left world class destinations in this area.
Perfect for nature lovers and trekking enthusiasts.