Phuket excursions : Asia Sensations Travel
An international company with the Thai license under company of Aisa Sensations Travel groups: T.A.T (Tourism Authority of Thailand) No 34/01616
Member of the ATTA (travel agent association in Thailand) Member No 02855
Asia Sensations Travel Co.,Ltd is also the ground handling for many local and oversea agencies and local agency.
A Belgo-Thai corporation created in Phuket 11 years ago, mainly working as an inbound Travel, for groups and incentives in whole Thailand.
Our multifunction agency also works as a tour operator and travel agency; we organize seminaries, honeymoon and adventure travels for groups or individual travelers in the whole territory of Thailand.
Our experience offers a perfect knowledge of Thailand, its activities and hotels capacities, its novelties. Moreover, the company has an excellent reputation and a really good image in the local tourism.
We have the help of a law office of international rights, in Phuket (Thai lawyer who speaks English).
We also possess all the required insurances for our company and employees. They all are socially covered which is very rare in Thailand except in the big companies.
Asia Sensations Travel Co.,Ltd is also :
- An Expertise:
We can provide you the best services thanks to our experience collected for all these years, to offer you an unforgettable vacation.
That is why we can guarantee you a perfect holiday, which meets your expectations.
Our receptive team is made of local professional in the fields of tourism and leisure, French-speaking guides, two Thai managers and one French-speaking manager, specialist if South-east Asia, Mr. Thierry Buffin de Chosal.
This diversity gives us the chance to be the link between our customers (French-speaking or international) and the different Thai actors in tourism.
In order to guarantee the security to our customers and the respect of hours during transfers, we have 20 minibus and 5 limousines (2.4 L), all of them with air-conditioning for a real comfort.
For these transfers, our team is made of 24 experienced drivers who know perfectly all the roads of the country.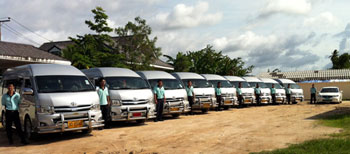 We reveal our secrets, our customer's feedback and our favorites to you, in order to make your stay an unforgettable moment.
Asia Sensations Travel Co.,Ltd is also :
- Aphilosophy and values:

Asia Sensations Travel is a family and professional corporation, who really want to develop the local economy but at the same time be respectful to the environment through fair tourism.
That is why we have established a partnership for the ecology and the protection of Phuket Island and for whom we involve ourselves every year in different actions.
In order to participate actively to the development of Thailand, we maintain strong relationship with all the political and tourist actors, therefore we are involved socially and we established partnership with different schools and association for the training of student in tourism. Almost all our staff's members began as a trainee before being employed.
This philosophy is illustrated by a really selects all its service providers on criteria of reliability, creativity and adaptability in front of requirements of the treated files.
Asia Sensations Travel Co.,Ltd is also :
- A choice and a team:
Mobil, we took care of trying all our products and so to select them according to your expectations in order to your customers receive the best in quality and services.
We choose the best products in order to let you discover the best of Thailand. Rapid and efficient, we insure you an extremely rapid answer to all our questions.
The most important for your agency is to have a tour agent that is specialized in incentives group, That's why we, Asia Sensations Travel Co Ltd, offer you an original concept, by adding at each stopover, our own animations

Traveling with Asia Sensations Travel, it is sharing a culture, with its smiling and warm local population, but it is also getting involved in the sustainable tourism and the respect of environment.
Leaving with Asia Sensation Travel it is choosing the trust, the security and a team who will do all its possible to make of your vacations a moment you will never forget.
-Our Guarantee :
Members of ATTA (Association of Thai Travel agent)


Member No 02855

Members of T.A.T. (Tourism Authority Thailand) under licence of Asia Sensations travel groups Co.,Ltd

TAT (Tourism Authority Thailand) Paris www.tourismethaifr.com
TAT (Tourism Authority Thailand) Switzerland www.tourismthailand.ch
Certificate department of Tourism
Presents to
In accreditation of Tour operator standards. under the development project of tourism business and tourist guide standards
February 2018 - February 2022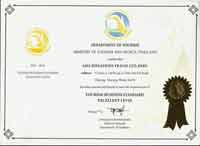 Certificat
7/3 Moo 2, Soi Parlai, Chaofa Road, Muang, Phuket 83000,Thailand
+ 66 (0) 76 374 521-2, (0) 76 374 257
Contact form