Leamsing Beach and Kamala Beach, Phuket Thailand
Beach on the south of Phuket :

: Leamsing Beach
Leamsing Beach is located about 25 minutes North of Patong on the road just after Kamala Beach. The beach is not visible from the road and comprises a small car park which costs 10 or 20 baths depending on if you have a motorbike or a car.
You can access the beach via a small sloping track which will allow you to get to the beach without any difficulty. The beach is hardly harnessed and in spite of a recent report recording an increase in the number of tourists and street peddlers , Laem Sing Beach remains a privileged area, the ideal atmosphere for relaxation and peace.
The site, with its high number of corals and its idyllic setting topped by rocky headlands is also the perfect place for snorkeling enthusiasts (masks and snorkels). Unfortunately, some restaurants as well as a building project recently settled on the side of the hill, making the beach less attractive.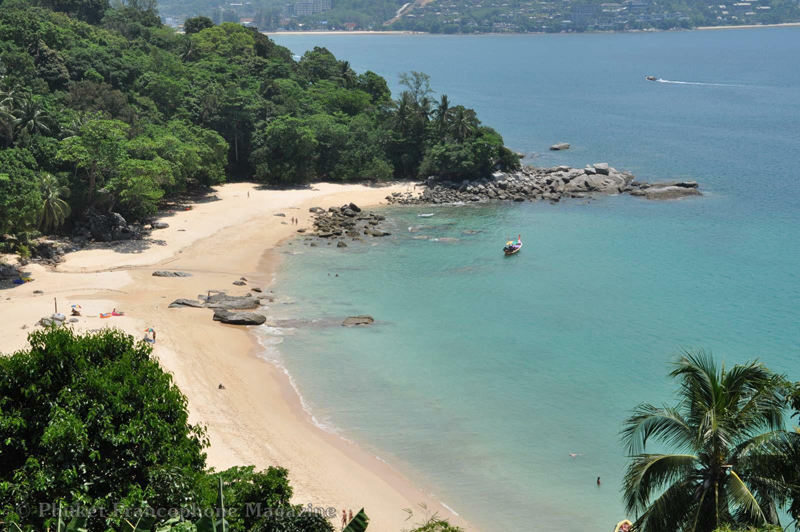 Beach on the south of Phuket :

Kamala Beach



Located 20 minutes North Patong, Kamala Beach used to be a small fishing village. Unfortunately, for a few years the village has developed and welcomed many resorts, bars and restaurants of all kinds.
Kamala Bay comprises two beaches, the main one with its turquoise waters and its white sand on 3.2km looks like a crescent-moon, and a bit further south the second beach is more isolated and faces the Kamala Beach Terrace.
Throughout the day, you won't run out of fun things to do on the main beach, water-skiing, jet ski, banana ride pulled by a speedboat, parasailing, kayak or long tail boat trips. Many deckchairs and beach umbrellas are as well available.
During the evening, Kamala Beach is one of the only places where you can have dinner directly on the beach. According to your sense of smell, the various restaurants offer you a wide range of specialties in fish, seafood, Thai food or European food that you can taste with both feet in the sand.
After the dinner, many shops will allow you to enjoy strolling in the streets, and if you prefer your entertainment a little more lively, Patong Beach is only 20 minutes away.

Phuket Fantasea Show in Kamala presents an unforgettable show in a huge complex surrounded by an amusement park with colourful shops. Fantasea is the best show in Southeast Asia. At an extra charge, a delicious international meal will be served.