Rawai Beach, cap promptep, Ao Chalong bay
Beach on the south of Phuket :

Rawai Beach, cap promptep, Ao Chalong bay
Rawai Beach
Located on the East Coast in South Phuket, Rawai is the favorite beach of Thai people and residents who like to spend their evening there or come for dinner. This is not a very pretty beach and many long tail and speed boats are anchored along the beach and can be rent for trips on the surrounding islands.
East of the beach, there is a small sea gipsy village where you can buy fresh fish and shellfish. You can have it cooked in many restaurants close to the beach, at a small additional fee for the cooking.

Not far away from there, on Chalong road, you can buy species of shells from all over Southeast Asia at the Seashell Museum.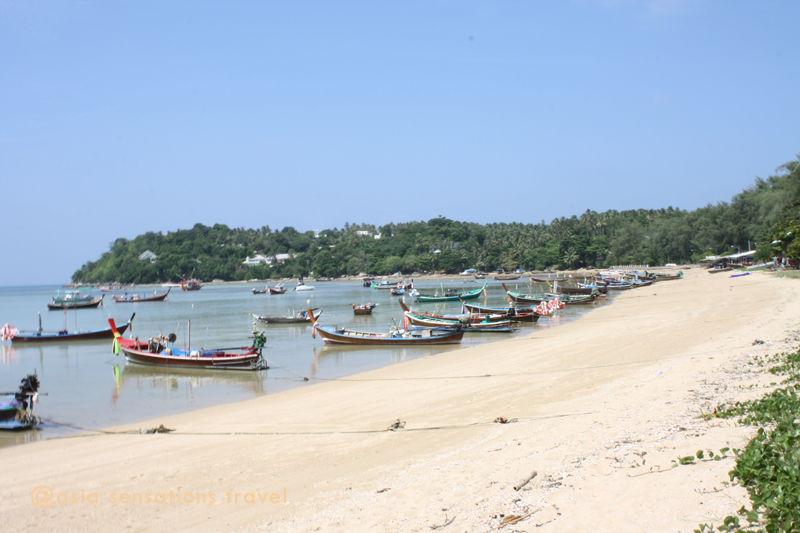 Cap Promptep
Between Rawai and Nai Harn Beach, along the west coast in the South of the Island, you can enjoy the most popular setting with its fabulous panorama and amazing sunsets. "Phom" is the Thai name for the Hindu God "Brahma" meaning purity, and "Thep" is the Thai word for God.
Just below the viewpoint, a big car park lined with some various shops, will allow you to do some shopping..
Estimated sunset time

January
18h25 - 18h32
February
18h34 - 18h38
March
18h35 - 18h38
April
18h36- 18h39
May
18h37 - 18h40
Jun
18h41 - 18h46
July
18h46 - 18h49
August
18h35 - 18h42
Septembre
18h22 - 18h32
Octobre
18h10 - 18h20
Novembre
18h12- 18h22
Décembre
18h07 - 18h20
Ao Chalong Bay
Ao Chalong Bay is located on the southeast extremity of Phuket Island. The place is very popular for its restaurants and the splendid view on the Bay includes many islands such as Koh Lone, the coral island.
All year round, the bay provides a base for many yachts, sailboats and other pleasure crafts and Chalong Harbour is also the starting point of many trips, such as journeys to Phi-Phi, Coral Island, Racha or Raya.