Patong Beach, Kalim, Paradise beach, Phuket Thailand
Beach on the south of Phuket : Patong Beach
Patong (word meaning « banana plantation ») is the first tourist attraction on Phuket Island. This crescent-shaped bay of 4.5km welcomes the highest number of visitors.
For those who are looking for sunny activities, Patong Beach offers so many entertainments and services that young and old alike will find everything within reach.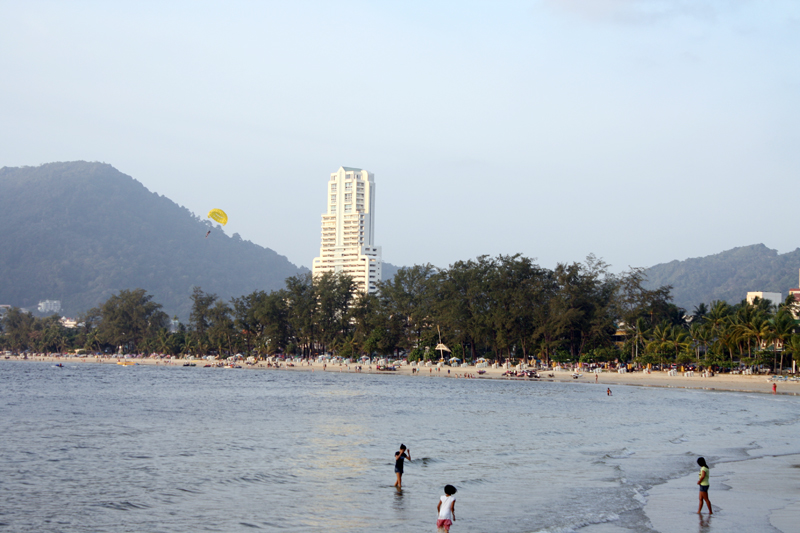 Service on beach
On the beach, it is possible to rent a deckchair. You can rent 2 deckchairs and a beach umbrella for 100 Bahts or one deckchair and a beach umbrella for 50 Bahts, payable on spot.
For a more lively atmosphere, many services are available with street vendors on the beach and this all day long. Feel free to choose among keepsakes, fresh drinks, food, clothes, jewelry, handmade products and much more.
If you are a more active type, Patong Beach includes several water activities such as : jet-ski (1,800 Baht per 30 minutes), parasailing (1800 Baht), Banana Ride towed by a speedboat (1 200 Baht), estimated prices, depending on the number of participants.
Thaï massage combines techniques of indian ayurvedic massage and chinese massage.
Practiced on the seaside, massage reinforces relaxation, free of stress and pollution, even if the masseuse is not really a professional. (Estimated price for about 45minutes : 400 Baht)
During a Thai massage your whole body is taken care. It harmonizes body and mind by pushing into points on the energy lines. If you wish to have a more professional massage than on Patong Beach, we can offer you different Spa Centers with saunas, various body treatments,etc..


You can find some restaurants on the beach just across Soi Sawatdirak and among these restaurants we advise you to go and eat at the French restaurant Chez Bernard, No 6.of the street.
Patong is swarming with hotels, restaurants, bars and shops of every sort, and offers visitors a great diversity. From village markets through small clothing and keepsake shops to the big store Junk Ceylon, Patong offers to its visitors a wide range of products from all over Thailand.
Beach on the south of Phuket :

Kalim Beach



Kalim Beach is the extension of Patong Beach separated by some small rocky headlands. The beach is not made for swimming because there are so many rocks.
The place does not include deckchairs or water activities but the area around the beach is pretty developed with bars, restaurants and hotels, given that it is really close to Patong Beach..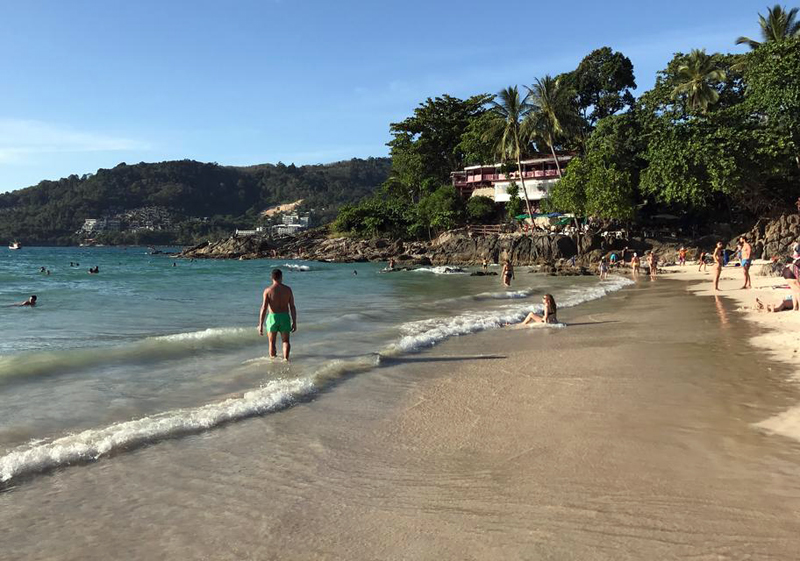 Beach on the south of Phuket :

Freedom Beach



When you are at the South end of Patong, you only need 15 minutes by boat (long thai Boat) to get to a splendid small beach called Freedom Beach.
This beach is only accessible by boat and includes some small restaurants, deckchairs and massage, in addition to toilets and showers.
To get to Freedom Beach, you have to pay 1 500 Baht but it depends on the number of people you are and how long time you wish to stay. Jet-skis are not welcome by the owners of the beach.
If you want to admire fishes and corals while being close to Patong Beach, this is the place for you. Indeed, it offers something that is now rare on Phuket Island: an intact coral reef and rich marine life.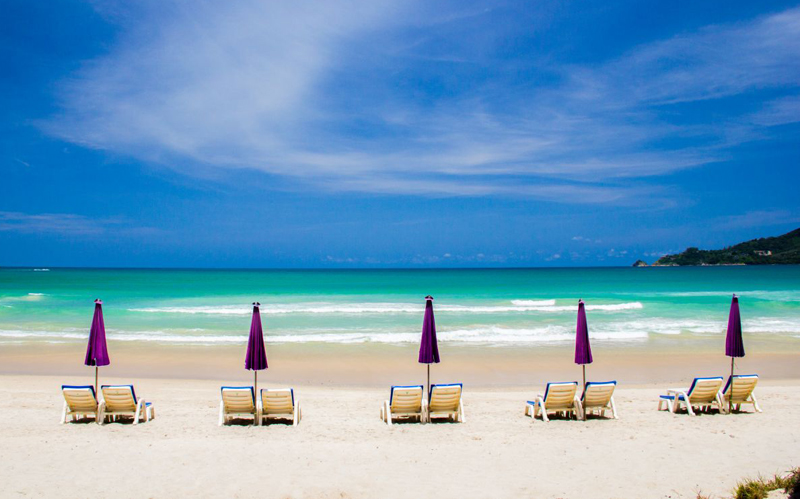 Beach on the south of Phuket :

Paradise Beach



If you want to relax on a peaceful beach, eat delicious meals and do coral reefs snorkeling, Paradise Beach is your own paradise!
Phuket has many beaches but Paradise Beach is a real small heaven and is located only 5 kilometers away, when taking the beach road down to South Patong. As soon as you have crossed the bridge and the hill, keep on driving on this winding road, you will then find the beach..

Lined with palm trees, the beach is about 60 meters long and is a shelter away from Patong's crowds, where you can find peace and quiet and serenity. Jet skis are not allowed to land on the beach and swimming is possible all year round, that is why expatriates and residents of the island really like this beach.

The only restaurant offer a wide range of choice in Thai and international meals, including many fresh seafood dishes with very affordable prices. The beach is clean and maintained and the only negative point is that the Tsunami seriously damaged the coral reef.