June Bahtra, specialist company, offers high quality excursions to discover Phang Nga Bay by junk.
The four Traditional Siamese Junk of this flotilla are well maintained and take you back in time when the junks of the kingdom of Siam and Malaisia controlled the Andaman Sea.
The "June Bahtra" offers a comfortable facility for twenty passengers.

Phang Nga Bay is for sure one of the most beautiful bay in the world and is by this a must during your holiday on Phuket Island!. The zone encircling the bay of Phang Nga is a complex unit of deltas, thick mangrove and Nipa palm trees.
The coastline is protected by a succession of limestone and other kind of rocks in amazing forms, up to over 300 m high. An excursion by boat is a real must to explore the mangrove and to see the unique and magnificent panoramic views of the limestone formations, covered with jungle green. The view of this bay is breathtaking with its grottos lagoon and lovely little beaches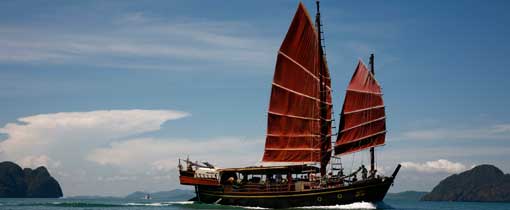 Phang Nga Bay Junk cruise
1st excursion : The spirit of Phang Nga Bay Cruise
Daily departure
Welcome aboard for a magical cruise in Phang Nga Bay and sail to and fro across places where many movies have been filmed. Comfortably installed in the June Bahtra, you will be delighted by the colors of these beautiful and breathtaking landscapes raised from the water.

Sunset Junk Cruise in Phang Nga Bay
2nd excursion : The spirit of Phang Nga Bay Cruise
Daily departure
Embark June Bathra and leave your problems behind to enjoy the calm of a romantic dinner. As a couple or with friends, savor a delicious Thai buffet while admiring the sunset.
Itineray & Price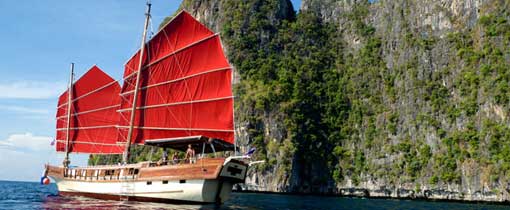 Cruise by Junk to Phang Nga, Krabi, Phi Phi
3rd Packages : Suwan macha
Itinerary : 2 possible choices. (see the program)
Board the Suan Macha for 3days/2nights cruise
Visit Phang Nga Bay and Phi Phi Islands while relaxing on the boat.
Important Boat is under reflexion until 2019
Itineray & Price