Bang tao restaurants, gastronomy, dining guide, Thailand
Bang Tao Beach comprises two distinct areas: the area of Laguna - a complex of six hotels where and just before the village resort of Laguna or small bars and restaurants provide food at reasonable prices. We selected the inevitable.
Bang Tao Restaurants
Black Cat Restaurant
The Black Cat Restaurant opened in 1996 and is beautifully arranged with bamboo. It offers a wide range of Thai, French and International dishes and allows you to enjoy a friendly and peaceful atmosphere.
Located just 100m from the police station, on the road toward the Laguna.
Prices from 100 to 300 B.
Open 11:30 – 15:00 17:30 – 01:00 daily except Sunday 17:30 – 01:00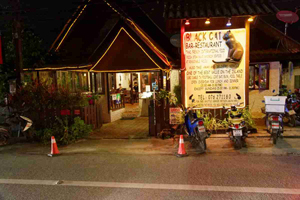 Little Paris restaurant
is the perfect place to go for delicious French, Italian & Thai cooking in Phuket. Relax atmosphere of this traditional restaurant set in the heart of Boat Avenue, Phuket and watch as your fresh pizza is baked to perfection or the hearty flavours of home cooking with the elegance and class of the chef.
Prices from 100 to 800 THB
Open daily 08.00am-23.00pm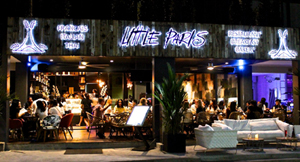 The Beach Cuisine restaurant and cockthail
The Beach Cuisine is a laidback eatery run by French chef-owner Maxime Montoloy. The menu at The Beach Cuisine reflects the chef's cosmopolitan past, featuring a mind-boggling array of Thai and European dishes. After sunset, guests can boogie the night away as various DJs take to the decks to spin hip-shaking tunes. With good food, cool brews, and a Mediterranean-inspired decor, The Beach Cuisine is a culinary sanctuary for sun-seeking foodies on Bang Tao beach

Prices from 150 to 1000 THB.
Opening Hours: Mon – Sun 11:00 Am – 23:00 Pm