Phuket Team Building, MICE, events, convention, Seminar, Thailand
Asia Sensations Travel Co.,Ltd your partner to organizes team building, travel of motivation, your reward or events, conventions, seminars and incentives travel in Thailand.
We created Management plays, interactive and directed towards the Team building.
These motivation events, true "Adventures with living" schematised and supported by actors are conceived to involve the participants in the middle of natural size stimulation, which comes to support human resource's development.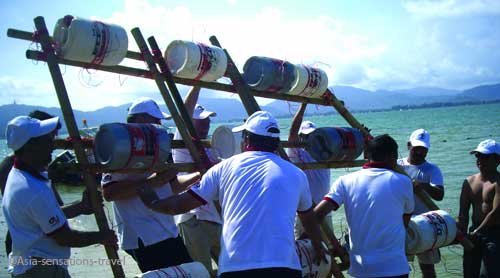 These plays are presented in three big families:
· outdoors events themes: (Schematised rallies, "James Bond type") which offers an alternative much more exciting than conventional treasure hunts.
· schematised plays themes: "Murder " or adventure plays by teams supported by a show that is held during the evening.
· creative challenges themes: Proposing later on, to participants to lead to concrete realization. (Evening-event, show, movies)

To emphasize most valuable:
OUR SERVICES RESUME
Management plays: * Communication and Synergy
* Know-how and to know- to be
* Team efficiency
* Communication and Reactivity
* Learn how to progress in a team
* Co-operation and Competition

Rallys, Raids, Treks: * North Thailand rally.
* Jeep Safari's raids, elephant, rafting,
* Inhabitants raid (ethnos groups).
* Self driving or experiment driving
* Thailand inhabitant Rallies in the bush, in Quad
Theatre themes:
* Standard behaviour plays or the humour effect.
* Theatre apostrophes / ice effect.
* Plays to measure / Mirror effect.
* Play shows creation…and more.


TEAM Building Themes:
* Olympiads (mixing sporting, intellectual).
* Rafts building or experiment collective intelligence.
* Treasure huntings, Murder Party or other strange themes.
It is in the action that the team's unit is forged.

Sports themes:
* Live water: rafting, canoeing, kayak, Jet Ski…
* Sea: Jet Ski, catamaran, water-skiing, diving…
* Country sites: VTT, climbing, speleology, course ventures, tree climbing. (Monkey bridge, cobweb), excursions…
* Mechanical sports: carting, quad, 4x4, monospaces…
* Feelings: Parapente, ULM, parachute jumping...
Discovery themes:
* Thailand discovery (or nearby countries "might combine").
* Cultural rallys, Trek playing…
* Oenology, gastronomy, ethnic groups visit, jungle discovery…
* Canoe, cruising, islands paradisiacal visit, bicycle treks…
* Temples visit, museums…
Evenings, seminars, congress:
* Tailand, Laos, Cambodia, Vietnam, Myanmar.
* Movies, fun fairs, disco, bars, circus, pirate, TV...
* Humour, defies, mysteries, futurists, sport, Sosies
* Fire works, special effect arrangment
It is in the action that the team's unit is forged.
Topic and attractions that will please your guests:
OUR CONCEPT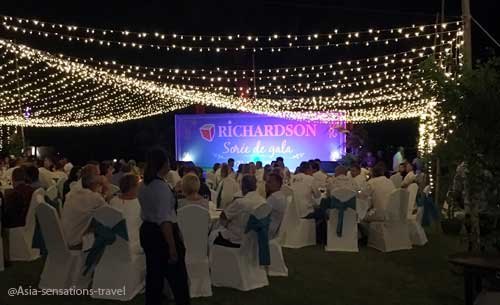 Team-Building to succeed together!
Our services, conceived to favour your Company' values penetration, and appropriation, work metaphors inspired by real problematic that are yours, and to messages you want to forward.
They put participants in a position to be able to actively go thru Management pictures that you want to animate.
We work with Managers & their staffs to give them the opportunity and motivation to work better together, so that everybody in your Company or within your customers will realize its benefits.
We help Companies to train inspired leaders and staffs to become more performing.
An international company with a Thai license:
T.A.T. (Tourism Authority Thailand) # 34/01616

Member of ATTA (Association of travel agent in Thailand)
Membre No 02855