Phuket excursions and tours packages, Thailand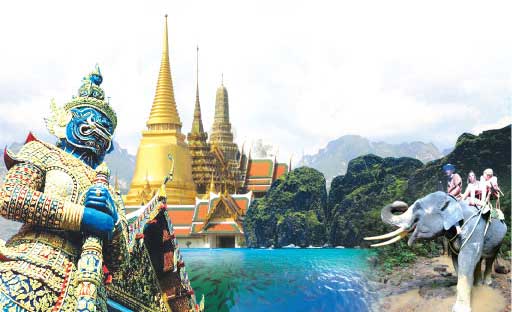 W
hat to do, what to see in Phuket? Do not miss the countless activities available on this tropical paradise, diving, shows, trekking. A lot of activities are waiting for you on the neighboring paradise islands of Phi Phi, Lanta and Similan!As it is essential for our company to make your dreams come true, we have selected all the best sightseeing tours of Phuket and its region…

Choose your activities and excursions according your taste and let the adventures begin!

Excursions from Phuket to Phi Phi
Phi Phi Islands are part of a National Park situated extreme south of the hill chain of Phang Nga Bay, 34 km south-west from Phuket Island.

Both islands are beautiful with green hills. One of them reaches 498 m above a strip of white sandy beach. From the sky it looks like a giant barbell. The tour around Phi Phi Don, the bigger of the two islands, is only 20 km. Phi Phi Islands are also the place where the movie "The Beach" was shot, which starred Leonardo Dicaprio.
By speedboat or ferry, let yourself be seduced by this unique island, small piece of heaven.

excursions from Phuket to Phang Nga
Similar to Halong Bay in Vietnam, Phang Nga Bay is for sure one of the most beautiful bays in the world!

A tour by boat is a real must to explore the mangroves and to see the unique and magnificent panoramic views of 300 limestone formations. Years of erosion have created caves, tunnels and ceilings studded with stalactites and jungle covers the island over 100meters high.

One of the best examples of this rock formation is the renowned James Bond Island (The Man with the Golden Gun). Let yourself be drawn into these magical adventures...

excursions and activities in phuket
Phuket, the largest island of the kingdom, is an enchanting place where you will find everything for a wonderful holiday. Whether you are with friends or family, the variety of activities is endless. Phuket is the first destination of Southeast Asia and enjoys plenty of tours, shows, trekking, massage, food and other activities. From the pulsating nightlife of Patong to the religious architecture of Wat Chalong and the Big Buddha, Phuket is an island that combines extravagance and spirituality in a unique way that everyone should discover.
excursions and tours from Phuket or khao lak to Khao Lak
Chao Lak is two hour's drive from Phuket. Untouched by tourism, it is a mix of lush jungles and white sand beaches. Khao Lak is a peaceful tropical retreat for people who want a quiet and relaxing place to stay with some activities available to them.


Excursions from phuket to (or) in krabi
he province of Krabi offers a unique view of limestone rock formations similar to those in Phang-Nga. This idyllic area with powder-white beaches and stunning coral reefs is easy to reach from Phuket. Krabi has two sections, the town of Krabi and the beaches of Ao Nang and Railey where most of the hotels are.
Krabi has become an alternative resort to Phuket. Today, it attracts visitors from all over the world including nature lovers, wildlife enthusiasts, thrill seekers and even those who prefer something more challenging. If you are looking for anything specific, please do not hesitate to contact us. Our experienced staff will be pleased to help you.

Excursions island Beyond Phuket
Phuket surroundings offer a wide range of splendid small islands. Adored all over the world, Koh Phi Phi is of course the greatest one. But it would be unfortunate not to explore all the islands around Phuket. Facing less tourism, these treasures of southern Thailand such as Racha Yai, Koh Yao have remained authentic. By speedboat, ferry or longthai boat, half a day, a day or more, we have something for everyone's taste.

Phuket packages
If you planning your holiday in Phuket, our Packages offers you a selection of well organised packages hotels/tours in Khao sok, krabi, Khao lak..Etc. Build your own Phuket holidays or find the best holiday packages in Phuket aera. Our company are tailor made then don't hesitate to conatct us.

An international company with a Thai license:
T.A.T. (Tourism Authority Thailand) # 34/01616

Member of ATTA (Association of travel agent in Thailand)
Membre No 02855
The travel association in Thailand
Thailande packages, Phuket inbound Travel