Tours to Phang-Nga Bay from Phuket, Thailand - excursions
Enjoy a tours in Phang Nga bay and admire the fabulous Phang Nga Bay, an extraordinary place comparable to Along Bay in Vietnam. Famous for its limestone rocks, Phang Nga Bay shows a complex of deltas, thick mangroves and nipa palm trees growing just to the border of the sea.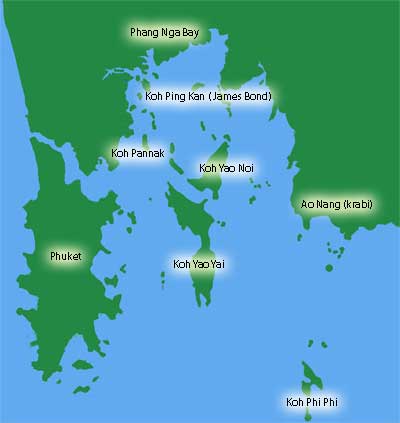 The boat is the best way to discover the Bay. We offer you several types of excursion: by boat and canoe, by road and long Thai Boat (Thai pirogue), by speedboat with or without canoe, by junk. Individual or groups, choose the excursion that best suits you.
Please find more information about the different companies in Phuket, ranked according to the quality of their services and customers feedbacks.
Phuket excursions and tours by canoe or kayak in Phang Nga Bay:

You have plenty of choices to discover Phang Nga Bay, please see the different excursions according to customer feedbacks.

Phang Nga Bay boat canoe
tour Phang nga bay from phuket By big boat canoe
Come and discover Phang Nga Bay by sea kayaking around Phang Nga Bay is an amazing experience. This tour in Phang Nga Bay is perfect for you who like to combine your canoeing experience with some sightseeing on the famous James Bond Island. Competent and well-staffed company, it offers you an all-in day trip to explore the splendid Phang Nga Bay by canoe.

Panak Island
tour from Phuket to phang nag bay speed boat plus canoe (Leave early morning)
TOP TEN TOURS : Phang Nga Bay Sunrise by Speed Boat is a amazingly complete trip will allow you to discover so many unforgettable things. You will visit Koh Ping Kam where cave paintings adorn the cliffs, Koh Panyi with its Muslim village, sea fishers living on stilts, Ko Panak which features splendid grottos, etc. It also the fast way to visit Phang Nga bay.

Bamboo Island
excursions from Phuket to phang nga bay by junk

The four Chineses tradional Junks in Phang Nga bay offers you a romantic way to discover Phang Nga Bay. The fleet of sailing junks used for this day cruise contains 3 boats named June Bahtra I, II, and III. The last boat named Suan Macha travel from Phang Nga bay to Phi Phi for 4 days and 3 nights. But the boat is currently undergoing a refit. The work is expected to be completed in 2019. ​

Phang Nga Bay by long Tail Boat with Asia Sensations Travel
Tour phuket to phang nga bay by road and long Tail Boat
Phang Nga Bay by road offers you a day trip to discover Phang Nga and is region at cheap price. Visit temples and the majestic Phang Nga Bay by (air-conditioned minivan) and take the tour by the Long Thai to see Phang Nga's sea mountains, James Bond Island & Koh Pannyi village.


TOUR PHUKET TO PHANG NGA BAY BY HONG STARLIGHT KAYAKING
One of the best tour in phang nag bay by canoe. Well-known, John Gray offers a wide range of excursions to discover Phang Nga Bay.

An international company with a Thai license:
T.A.T. (Tourism Authority Thailand) # 34/01616

Member of ATTA (Association of travel agent in Thailand)
Membre No 02855
The travel association in Thailand
Thailande packages, Phuket inbound Travel